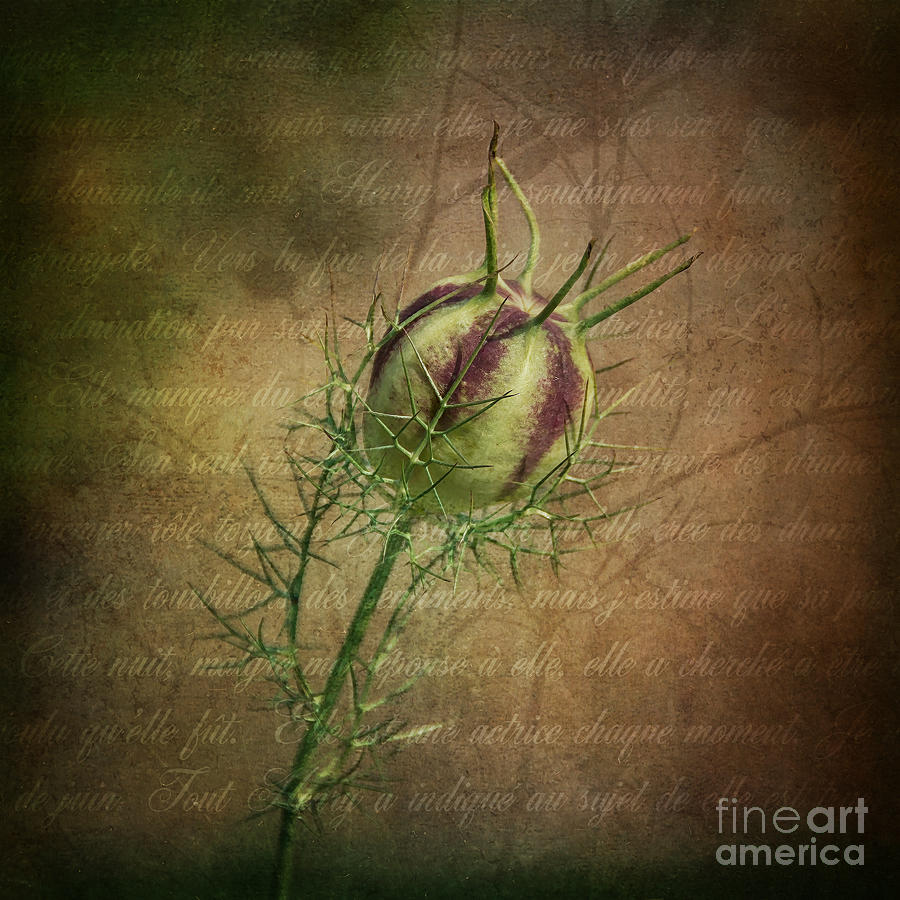 Medium
Photograph - Digital Photography
Description
A single poppy bud, with delicate tendrils, exerts a fey magic. Interpreted with text and textures to complement it's fairy magic.

Poppies are herbaceous annual, biennial or short-lived perennial plants. Some species are monocarpic, dying after flowering. Poppies can be over 4 feet tall with flowers up to six inches across. The flowers have 4 to 6 petals, many stamens forming a conspicuous whorl in the center of the flower and an ovary consisting of from 2 to many fused carpels. The petals are showy, may be of almost any color and some have markings. The petals are crumpled in the bud and as blooming finishes, the petals often lie flat before falling away. Poppies are in full bloom late spring to early summer. Most species secrete latex when injured. The pollen of the oriental poppy, Papaver orientale, is dark blue. The opium poppy, Papaver somniferum, is mainly grown in eastern and southern Asia, and South Eastern Europe. It is believed that it originated in the Mediterranean region. The pollen of the field poppy or corn poppy (Papaver rhoeas) is dark green to grey. Bees use poppies as a pollen source.

Poppies have long been used as a symbol of sleep, peace, and death: Sleep because of the opium extracted from them, and death because of the common blood-red color of the red poppy in particular. In Greek and Roman myths, poppies were used as offerings to the dead. Poppies used as emblems on tombstones symbolize eternal sleep. This symbolism was evoked in the children's novel The Wonderful Wizard of Oz, in which a magical poppy field threatened to make the protagonists sleep forever.

I hope you will consider acquiring one of my photographs for your personal enjoyment or as a gift.

Please feel free to share any of my art works with family and friends by forwarding the link. If you would like to receive announcements of events or periodic discounts please click on my name at the top of the page, then below my profile photograph, click the link to join my e-mail list. Occasionally, I send out limited time discounts for photograph prints. If you are on Facebook, please visit my page, tART - Photography & Art by Terry Rowe, https://www.facebook.com/tarrowe. Thank you for visiting and viewing my work!

Note: Watermarks will not appear on final prints.

Copyright Notice: All images on this web site are protected by the U.S. and international copyright laws, all rights reserved. The images may not be copied, reproduced, manipulated or used in any way, without written permission of Terry Rowe, artist. Any unauthorized usage will be prosecuted to the full extent of U.S. Copyright Law.

Uploaded
February 9th, 2014
Statistics
Viewed 2,326 Times - Last Visitor from Seattle, WA on 09/30/2023 at 8:57 AM